SCOOB!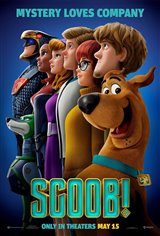 | | |
| --- | --- |
| Score: | 5 / 10 |
| Released: | May 15, 2020 |
| Director: | Tony Cervone |
| Producer: | Allison Abbate, Pam Coats |
| Studio: | Warner Bros. Pictures |
| Cast: | Will Forte, Mark Wahlberg, Jason Isaacs, Gina Rodriguez, Zac Efron, Amanda Seyfried, Kiersey Clemons, Ken Jeong, Tracy Morgan, Simon Cowell, Frank Welker, Iain Armitage, Harry Perry |
| Genre: | Animation |
| Length: | 94 minutes |
write a review | read reviews | watch the SCOOB! trailer

SCOOB! Overview
In this origin story about Scooby-Doo, we see that he met Shaggy on the beach, when he was a pup and Shaggy was a kid. Shaggy quickly adopted him and when the two go trick or treating on Halloween, they meet Fred, Velma and Daphne.
The group forms a detective agency known as Mystery Inc. Fast forward a few years later and Scooby (voice of Frank Welker) and the gang face their biggest, most challenging mystery ever: a plot to unleash the ghost dog Cerberus upon the world. As they race to stop this global "dogpocalypse," the gang discovers that Scooby has a secret legacy and an epic destiny greater than anyone imagined, especially when Shaggy (voice of Will Forte) and Scooby are kidnapped and find themselves on the Falcon Fury. Back home, Fred (voice of Zac Efron), Velma (voice of Gina Rodriguez) and Daphne (voice of Amanda Seyfried) try to solve the mystery.
Showtimes
(No Showtimes Listings)